In its package to help people who have had their circumstances changed as a result of Covid-19, the Chancellor announced a series of measures to alleviate the financial impact of losing a job or self-employed income.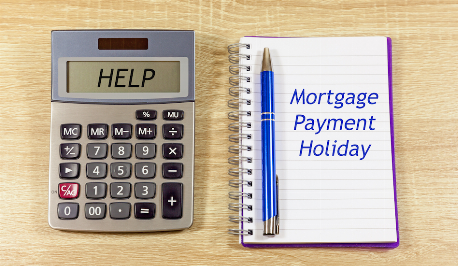 One of these was the option to take a mortgage payment holiday. But what is it and how does it work? We've created a guide that explains it in more detail. The first thing to say is that calling it a holiday isn't strictly true. The payment holiday was originally designed for customers who had fallen on hard times and couldn't afford their monthly mortgage. The Lender would talk through the customer's circumstances and then agree, if there was a way forward, to suspend the direct debit for three months whilst the customer sorted themselves out. In the background, the lender would add the missed payments, plus the interest payable onto the mortgage and then when the payments started again, the monthly amount would be higher to take into account in the increased in the mortgage. The customer's credit report would show three missed instalments and therefore the payment holiday would have a negative impact on the customer's ability to obtain credit in the future certainly at high street prices.
What has changed?
To have a payment holiday under the COVID-19 measures, you don't need to be financially distressed and the link between your payments or should we say lack of them with a credit referencing agency is broken. This means that there should be no impact on your credit score if you choose to take a holiday. Instead, your mortgage payments after the 3-month holiday will go up to make sure you repay the mortgage amount plus any interest in full.
A word of warning
If you are coming to the end of a fixed rate or other such mortgage deal, a time when your mortgage would normally drop back on to a higher rate of interest, then normally your lender would offer you another deal to encourage to keep your mortgage with them.  This is sometimes called a rate switch or product transfer and is normally a similar rate of interest to what you would be have been paying under your current deal.  However, some lenders are not in a position to offer the new lower rate if you are currently taking a payment holiday. You could attract a higher rate of interest on your outstanding loan which is then added to your mortgage and not be able to do anything about it. So, when it comes to your payment holiday, timing is everything. Of course, if you choose to take a payment holiday and then cancel your direct debit you run the risk of defaulting on your mortgage which is a risk that could damage your ability to obtain a competitively priced deal in the future.  
Talk to an expert
Taking a payment holiday is a decision which should not be taken lightly, if the implications are not understood then over time it could end up costing more money than it looked to save in the first place.  Talk to us and we can help you understand what a payment holiday means for you and when would be the right time.  And, if it's something you still want to do, how to go about requesting a suspension of your mortgage payments from your current lender – each has their own way of doing things and different turnaround times. So, the message is simple, act if you need to, make sure your take expert advice first, and let us help today so you have the right result every time.
How to request a Payment Holiday
We've put together a list of all the major lenders along with a link to how to contact them to request a payment holiday.
Payment Holidays: Last updated 07/04/2020 – 16:36
Lender payment holidays
Lender
Current Stance
Process
Product Transfers allowable?
Change to Interest Only
Accord
Yes, 3 month payment holiday available for customers affected by Coronavirus
Please click here for more information
Yes
Case by case
Aldermore
 Yes, 3 month payment holiday available for customers affected by Coronavirus
Please click here for more information
No
Yes
Ahli United
TBC
TBC
TBC
TBC
Bank Of Ireland / Post Office
Yes, 3 month payment holiday available for customers affected by Coronavirus
Please click here and complete the online form for a call back
TBC
Yes
Barclays
Yes, 3 month payment holiday available for customers affected by Coronavirus
Please click here to complete the online form
Yes, but must do this before requesting the payment holiday
Case by case
Bath BS
Yes, 3 month payment holiday available for customers affected by Coronavirus
Please click here or use to the online live chat facility to request
Yes
Yes
Beverley BS
Yes, 3 month payment holiday available for customers affected by Coronavirus
Please call 01482 881510 or click here to request a call back
N/A
TBC
Bluestone
Yes, 3 month payment holiday available for customers affected by Coronavirus
Please click here for more details
N/A
 N/A
BM Solutions
Yes, 3 month payment holiday available for customers affected by Coronavirus
Please call 0345 300 2627 Option 5, Option 2, Option 1 (specific to payment holiday)
TBC
No
Buckinghamshire
Yes, 3 month payment holiday available for customers affected by Coronavirus
Please click here to email to request holiday
No
Yes
Cambridge
Yes, 3 month payment holiday available for customers affected by Coronavirus
Please call 0345 601 3344 to discuss
Yes
Will consider each application
Central Trust
 Yes, 3 month payment holiday available for customers affected by Coronavirus
Please click here for more information
 No
No
Chorley
Yes, 3 month payment holiday available for customers affected by Coronavirus
Please click here to email to request a call back
Case by Case
 Case by Case
Clydesdale
Yes, 3 month payment holiday available for customers affected by Coronavirus
Please use the following link for contact details
TBC
TBC
Coventry
Yes, 3 month payment holiday available for customers affected by Coronavirus
Please click here to complete the online form to request a call back
 Yes
No
 Cynergy Bank
TBC
TBC
TBC
TBC
Coutts
TBC
TBC
TBC
TBC
Danske Bank
TBC
TBC
TBC
TBC
Darlington
Yes, 3 month payment holiday available for customers affected by Coronavirus
Please click here to email – title email 'Payment holiday' and provide all account details
TBC
 TBC
Digital Mortgages
 Yes, 3 month payment holiday available for customers affected by Coronavirus
Please click here for more information
No
No
Dudley
Yes, 3 month payment holiday available for customers affected by Coronavirus
Please call: 01384 231414 or click here to email.
No
No
Earl Shilton
Yes, 3 month payment holiday available for customers affected by Coronavirus
 Please call 01455 844422,or click here to request a call back
Customer can extend existing product
Yes
Family BS
Yes, 3 month payment holiday available for customers affected by Coronavirus
Please click here to request a call back
Yes
Yes
First Trust
Yes, 3 month payment holiday available for customers affected by Coronavirus
Please call 02890821670 or click here to email
Yes
Yes
Fleet
Yes, 3 month payment holiday available for customers affected by Coronavirus
Please click here for full details
N/A
 N/A
Foundation
Yes, 3 month payment holiday available for customers affected by Coronavirus
Applicant to call – 0344 770 8030 
N/A
TBC
Furnace
Yes, 3 month payment holiday available for customers affected by Coronavirus
Please click here for more details
TBC
TBC
Gatehouse Bank
Yes, 3 month payment holiday available for customers affected by Coronavirus
Please click here to request a call back
N/A
TBC
Halifax
 Yes, 3 month payment holiday available for customers affected by Coronavirus
Please click here to request a call back
TBC
No
Hanley
Yes, 3 month payment holiday available for customers affected by Coronavirus
Please call 01782 255000, option 6 or send this form
Yes
Yes
Harpenden
Yes, 3 month payment holiday available for customers affected by Coronavirus
Please call 01582 463133to discuss this further
Yes
 Yes, as long as normal term date can accommodate PT rates, then the client can continue
Hinckley & Rugby BS
Yes, 3 month payment holiday available for customers affected by Coronavirus
Please click here to request a call back
Yes
Case by Case
Hodge BTL
Yes, 3 month payment holiday available for customers affected by Coronavirus
Please click here to email or call 0800 138 9109 to discuss
No
Yes
Hodge Lifetime
Yes, 3 month payment holiday available for customers affected by Coronavirus
Please click here for more details
No
No
HSBC
 Yes, 3 month payment holiday available for customers affected by Coronavirus
Please click here to request payment holiday
Yes
Case by Case
Interbay
TBC
TBC
TBC
TBC
Investec
TBC
TBC
TBC
TBC
Ipswich
TBC
TBC
TBC
TBC
Ipswich BS
Yes, 3 month payment holiday available for customers affected by Coronavirus
Please click here to email or call 0330 123 0773 to discuss
TBC
TBC
Kensington
Yes, 3 month payment holiday available for customers affected by Coronavirus
 Please call 0333 300 0921 to discuss further
Apply as remortgage
Case by Case
Kent Reliance
Yes, 3 month payment holiday available for customers affected by Coronavirus
Please click here to request a call back
Yes
No
Keystone
TBC
TBC
N/A
TBC
L&G Home finance
Yes, 3 month payment holiday available for customers affected by Coronavirus
Please click here for more details
 N/A
N/A
Landbay
 Yes, 3 month payment holiday available for customers affected by Coronavirus
Please call 0330 053 6825 to discuss further
No
No
Leeds BS
Yes, 3 month payment holiday available for customers affected by Coronavirus
Please click here for more information
TBC
TBC
Leek United
Yes, 3 month payment holiday available for customers affected by Coronavirus
Please call one of the following numbers – Consumer 0808 169 6680 Brokers  0808 281 9309
Yes
Yes
LendInvest
 
 
Not Applicable
 
Lloyds Banking Group
Yes, 3 month payment holiday available for customers affected by Coronavirus
Halifax – Please click here to request holiday
Yes
Yes
BM Solutions –  Please call 0345 300 2627 Option 5, Option 2, Option 1 (specific to payment holiday)                                                
Scottish Widows – Please call 0800 001 5145
 
LV=
Not Applicable
Not Applicable
Not Applicable
Not Applicable
Marsden
Yes, 3 month payment holiday available for customers affected by Coronavirus
Please call 01282 440 500 to discuss
Case by case
No
Mansfield
TBC
TBC
TBC
TBC
Masthaven
Yes, 3 month payment holiday available for customers affected by Coronavirus
Please call 0207 036 2012 or click here to email to discuss futher
Yes
Yes
Melton
Yes, 3 month payment holiday available for customers affected by Coronavirus
Please call 01664 414141 to discuss
Yes
Yes
Metro
Yes, 3 month payment holiday available for customers affected by Coronavirus
Please call 0345 319 1200 to discuss further
Yes
Yes
More2Life
Not Applicable
Not Applicable
Not Applicable
Not Applicable
Natwest
Yes, 3 month payment holiday available for customers affected by Coronavirus
Please click here to request payment holiday
Yes, once  payment holiday has been completed
TBC
Nationwide
Yes, 3 month payment holiday available for customers affected by Coronavirus
Please click here to request payment holiday
Yes
Case by case
Newbury
Yes, 3 month payment holiday available for customers affected by Coronavirus
Please call 01635 555 700 to discuss further
Yes
Yes
Newcastle
Yes, 3 month payment holiday available for customers affected by Coronavirus
Please click here to discuss further
Yes
Case by Case
Nottingham
Yes, 3 month payment holiday available for customers affected by Coronavirus
Please click here to email using the heading Covid 19 Payment Holidays and include all mortgage account details
Yes
Case by case
One Family
TBC
TBC
Not Applicable
TBC
One Savings Bank
Yes, 3 month payment holiday available for customers affected by Coronavirus
Please click here to request a call back
Yes
No
Paragon
Yes, 3 month payment holiday available for customers affected by Coronavirus
Please click here to email with the heading Covid 19 payment holiday and include full mortgage account details
N/A 
 N/A
Paragon – 2nd Charge
Yes, 3 month payment holiday available for customers affected by Coronavirus
Please click here for further information
N/A
N/A
Penrith BS
Yes, 3 month payment holiday available for customers affected by Coronavirus
Please click here to email or call 01768 863675 (option 1) to discuss further
No
TBC
Pepper Money
Yes, 3 month payment holiday available for customers affected by Coronavirus
 Please call 03333 701 101 or click here to discuss further
No
No
Platform
Yes, 3 month payment holiday available for customers affected by Coronavirus
Please click here for further information
Yes
 Case by Case
Precise
Yes, 3 month payment holiday available for customers affected by Coronavirus
Please click here for further information
Yes
TBC
Principality
Yes, 3 month payment holiday available for customers affected by Coronavirus
Please click here and complete the online form
Yes
No
Progressive
Yes, 3 month payment holiday available for customers affected by Coronavirus
Please click here to request a call back
N/A
TBC
Pure Retierment
TBC
TBC
Not Applicable
TBC
Reliance Bank
Yes, 3 month payment holiday available for customers affected by Coronavirus
Please click here to email. Customer to email with name, postcode, account number and circumstance
No
Case by case
Saffron
 Yes, 3 month payment holiday available for customers affected by Coronavirus
Please click here for more information and to complete the online form
N/A
TBC
Santander
Yes, 3 month payment holiday available for customers affected by Coronavirus
Please click here to request payment holiday
Yes
No
Scottish Widows
Yes, 3 month payment holiday available for customers affected by Coronavirus
please call 0800 001 5145 to discuss further
TBC
No
Shawbrook
Yes, 3 month payment holiday available for customers affected by Coronavirus
Please click here to request a payment holiday or call 0344 892 0155 to discuss.
No
No
Skipton
Yes, 3 month payment holiday available for customers affected by Coronavirus
Please click here to email and provide mortage account number and best number for return contact
N/A
Case by case
Stafford Railway
Yes, 3 month payment holiday available for customers affected by Coronavirus
Please call 01785 223212 option 1 to discuss
No
Yes
State Bank of India
TBC
TBC
 Not Applicable
TBC
Swansea
Yes, 3 month payment holiday available for customers affected by Coronavirus
applicants to call 01792 739110 to discuss
Case by case
Case by case
Teachers
Yes, 3 month payment holiday available for customers affected by Coronavirus
Please call: 0800 378669 or click here to email.                 Each case reviewed individually
Case reviewed individually.  Contact lender
Case reviewed individually.  Contact lender 
The Mortgage Lender
Yes, 3 month payment holiday available for customers affected by Coronavirus
Please call 0344 257 0427 and speak to the dedicated staff to discuss this
N/A
N/A
TMW
Yes, 3 month payment holiday available for customers affected by Coronavirus
Please click here to request payment holiday
Yes
Case by case
Tipton
Yes, 3 month payment holiday available for customers affected by Coronavirus
Please click here to request a call back
Case by case
Case by case
Together
Yes, 3 month payment holiday available for customers affected by Coronavirus
Please click here to request a call back
Yes
No
TSB
Yes, 3 month payment holiday available for customers affected by Coronavirus
Please click here to request payment holiday
TBC
TBC
United Trust Bank
Case By Case
Please click here to email to request call back
Not Applicable
TBC
Vernon
Yes, 3 month payment holiday available for customers affected by Coronavirus
Please call 0161 429 4306 to discuss 
Yes
Yes
Vida Home Loans
Yes, 3 month payment holiday available for customers affected by Coronavirus
Please click here to request a payment holiday or call 0344 892 0155 to discuss.
No
Yes
Virgin/Clysdale
Yes, 3 month payment holiday available for customers affected by Coronavirus
Please click here for further information
Yes
Case by case
West Brom
Yes, 3 month payment holiday available for customers affected by Coronavirus
Please click here for further information
Yes
TBC
Zephyr Home Loans
 Yes, 3 month payment holiday available for customers affected by Coronavirus